1999 was an unforgettable year for the Zoo with the arrival of Lun Lun and Yang Yang, a pair of giant pandas on loan from China. Even as the city celebrated the beloved bears, Atlanta joined the Zoo in mourning Willie B., who passed away in 2000 at the age of 42. The gorilla who had become the symbol of the Zoo's resurgence was eulogized by Ambassador Andrew Young, memorialized by a crowd of over 5,000 people, and remembered by media throughout the U.S., including Time magazine.The early years of the 21st century were challenging ones for Zoo Atlanta. Like many of the nation's cultural destinations, the Zoo felt the impact of the September 11 attack on the World Trade Center in 2001. Zoo leaders embarked on a crucial period of evaluation, aligning the Zoo's mission of conservation, education and family fun with a new strategic plan that would guide the institution in a growing and changing city and state.
Maple announced his retirement from Zoo Atlanta in 2002, and Dennis W. Kelly assumed leadership as President and CEO in 2003. Outback Station, the final phase of the Orkin Children's Zoo, opened in 2004, followed by The Living Treehouse, a new addition to The Ford African Rain Forest.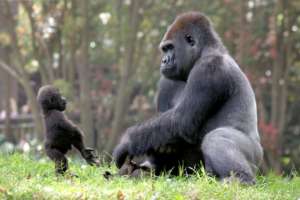 Gorillas were household names again in 2005 when Kuchi delivered a rare set of twins. At that time, no mother gorilla had ever successfully reared twins in a zoo without the benefit of the human intervention, but Kuchi proved a record-breaker. Willie B.'s first grandchild, Macy Baby, was born to Kudzoo in December 2005. Macy would later be joined by five more of Willie B.'s grandchildren: Gunther, born to Sukari in 2006; Merry Leigh, born to Kudzoo in 2011; Andi, born to Lulu in 2013; Anaka, born to Sukari in 2013; and a female infant born to Kudzoo in 2016. 
Stealing the spotlight from baby gorillas would prove difficult, but in 2006, a tiny, hairless creature took the stage. Lun Lun and Yang Yang's firstborn, Mei Lan, was the only giant panda cub born in the U.S. that year. Mei Lan would later be followed by a younger brother and five sisters: Xi Lan in 2008; Po in 2010; twins Mei Lun and Mei Huan in 2013; and twins Ya Lun and Xi Lun in 2016. Mei Lan, Xi Lan, Po, Mei Lun and Mei Huan all now live at the Chengdu Research Base of Giant Panda Breeding in China. 
A new decade also brought new leadership. Following the departure of Dennis Kelly, who accepted a position at Smithsonian's National Zoo, Atlanta native Raymond B. King took the helm as President and CEO of Zoo Atlanta in 2010. King's first Zoo Atlanta opening was Trader's Alley: Wildlife's Fading Footprints (2010), followed by Complex Carnivores (2011) and Twiga Terrace (2012). Splash Fountain presented by Atlanta Fulton County Recreation Authority opened in 2013. The award-winning Scaly Slimy Spectacular: The Amphibian and Reptile Experience opened in 2015 and is the world's first LEED Gold-certified reptile and amphibian exhibit. 
Animal firsts would include Zuri, the Zoo's first giraffe calf (2010); Sohni and Sanjiv, the first Sumatran tiger cubs born at Zoo Atlanta in more than a decade (2011); Beauregard, the Zoo's first eastern bongo calf (2011); Zoo Atlanta's first Guatemalan beaded lizard hatchling (2012); and Jabari, the first black rhino calf ever born in Zoo Atlanta history (2013).
Now more than 125 years removed from its historical origins, Zoo Atlanta has evolved from a quaint picnic stop where people visited wild animals to a conservation organization seeking to engage the public in the lives of its animal ambassadors and the preservation of their counterparts in the wild. The long journey from Victorian curiosity to national leader has not been without its challenges, but the mission, animals, programs and people of Zoo Atlanta will ensure that history will continue to be made.